Introduction: Unveiling the Charm of Rose Gold
Often described as the romantic metal, rose gold captivates with its lush, warm hues. Its unique color, a perfect blend of copper and gold, exudes an elegant charm that has seen it skyrocket in popularity in recent years. From jewelry to smartphones, this pink-tinted metal is redefining aesthetics and becoming a favorite across various industries.
Rose gold is a blend of gold, copper, and sometimes silver, forming an alloy that is renowned for its warm, pink-red hue. Originating from 19th-century Russia, this alloy offers a distinctive, elegant alternative in the jewelry world. Rose gold's unique coloration and durability make it an ideal choice for various types of jewelry, including rings, bracelets, and necklaces.
The Origin and History of Rose Gold
Rose gold, also known as pink gold or red gold, is not a new creation. Its popularity dates back to the early 19th century in Russia, and hence, it was often referred to as Russian gold. The term, however, is now obsolete, and the world has embraced the term 'rose gold' for this fascinating metal.
It was the famous jeweler Carl Fabergé, known for his intricate Fabergé eggs, who first brought rose gold into the limelight. He utilized the metal's romantic hues in his ornate creations, further boosting its popularity.
In the 1920s, rose gold saw a resurgence in the United States, with the introduction of Trinity Rings by Cartier – intertwined bands of white, yellow, and rose gold. Its popularity waned during the mid-20th century but has seen a significant resurgence in the 21st century, favored by modern designers and loved by millennials.
Today, the warm, rich tones of rose gold have made it a favorite for engagement rings, watches, and tech gadgets alike. It stands as a sophisticated, stylish, and contemporary alternative to traditional gold and platinum.
Understanding the Composition of Rose Gold
Rose gold, known for its distinctive pinkish hue, is not a naturally occurring metal. It is an alloy made by blending pure gold with copper and a small amount of silver. This unique mix gives rose gold its warm and romantic color.
The amount of gold in this mix is measured in karats (k), which indicates the proportion of pure gold to other metals in the alloy. The rest of the composition primarily consists of copper, and the proportion of these metals can alter the depth of color in the final product.
Let's look at the composition of different karat versions of rose gold in the table below:
| Type of Rose Gold | Gold | Copper | Silver |
| --- | --- | --- | --- |
| 18k Rose Gold | 75% | 22.5% | 2.5% |
| 14k Rose Gold | 58.3% | Higher percentage than 18k | Remaining percentage |
| 10k Rose Gold | 41.7% | Higher percentage than 14k | Remaining percentage |
Note: The exact percentages of copper and silver can vary depending on the jeweler's specific blend, but the gold percentage remains consistent.
The blend of gold, copper, and silver not only determines the color of rose gold but also its durability. Copper is a strong metal, which enhances the strength of rose gold, making it more resistant to scratches and dents compared to yellow or white gold.
Different Shades of Rose Gold
One of the unique attributes of rose gold is its versatility in presenting a spectrum of warm hues, from a faint pink to a deep red. The specific shade of rose gold depends on the ratio of gold to copper in the mix. The more copper present, the deeper the hue.
Here is a simplified breakdown of how the composition affects the shade:
Light Rose Gold: Contains a higher proportion of gold and silver, resulting in a more delicate, subtle pink shade.
Classic Rose Gold: Has a balanced blend of gold, copper, and silver, producing the iconic warm, pinkish hue.
Red or Pink Gold: Contains a high proportion of copper, leading to a more reddish or deep pink shade.
Note that there is no fixed rule for these color variations, and they may vary from jeweler to jeweler. The different hues offer a broad palette for jewelry designers to work with and consumers to choose from, contributing to the enduring popularity of rose gold.
Fun Fact: The mix of gold and copper in rose gold not only affects its color but also its durability. Higher copper content makes for a tougher, more scratch-resistant metal, making rose gold an excellent choice for everyday wear jewelry.
Rose Gold vs. Yellow Gold vs. White Gold: What's the Difference?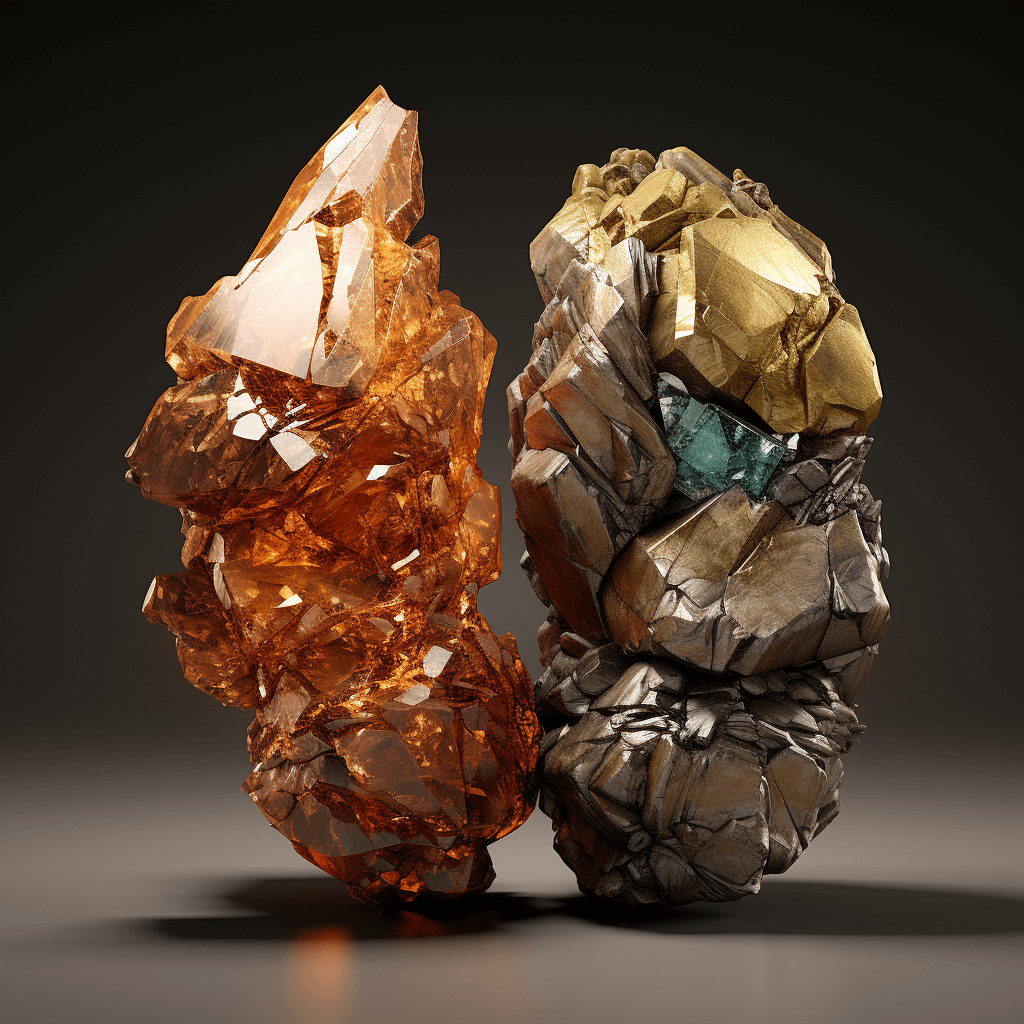 Gold, in its purest form, is a soft, yellow metal. However, the world of jewelry, gold can take many hues, including rose, yellow, and white. These differences in color come from the various metal alloys used in the gold mixture, each contributing unique qualities and visual appeal.
Rose Gold is an alloy of gold, copper, and sometimes silver. Its unique warm pink hue is due to the high copper content. This blend not only provides a distinctive color but also adds to the durability of the jewelry piece, making it a favorite across different skin tones.
Yellow Gold is considered the most traditional form of gold. It's a mix of gold, copper, and silver or zinc, preserving the bright yellow color similar to pure gold. Although it's relatively soft and requires regular maintenance to keep its shine and shape, the appeal of yellow gold lies in its classic and timeless aesthetic.
White Gold is an alloy of gold and white metals like nickel, palladium, or zinc, which impart a silver or white look to it. Renowned for its durability, it's often picked for its modern and sophisticated appearance. However, it may need rhodium plating occasionally to maintain its sheen. For those who are sensitive to nickel, hypoallergenic versions are available.
To understand more about the complexities of gold colors and their quality measures, check out our detailed article on Gold – Karats & Colors.
When it comes to choosing between rose, yellow, and white gold, it's largely a matter of personal preference and the style you wish to express.
Rose Gold Jewelry: The Rising Trend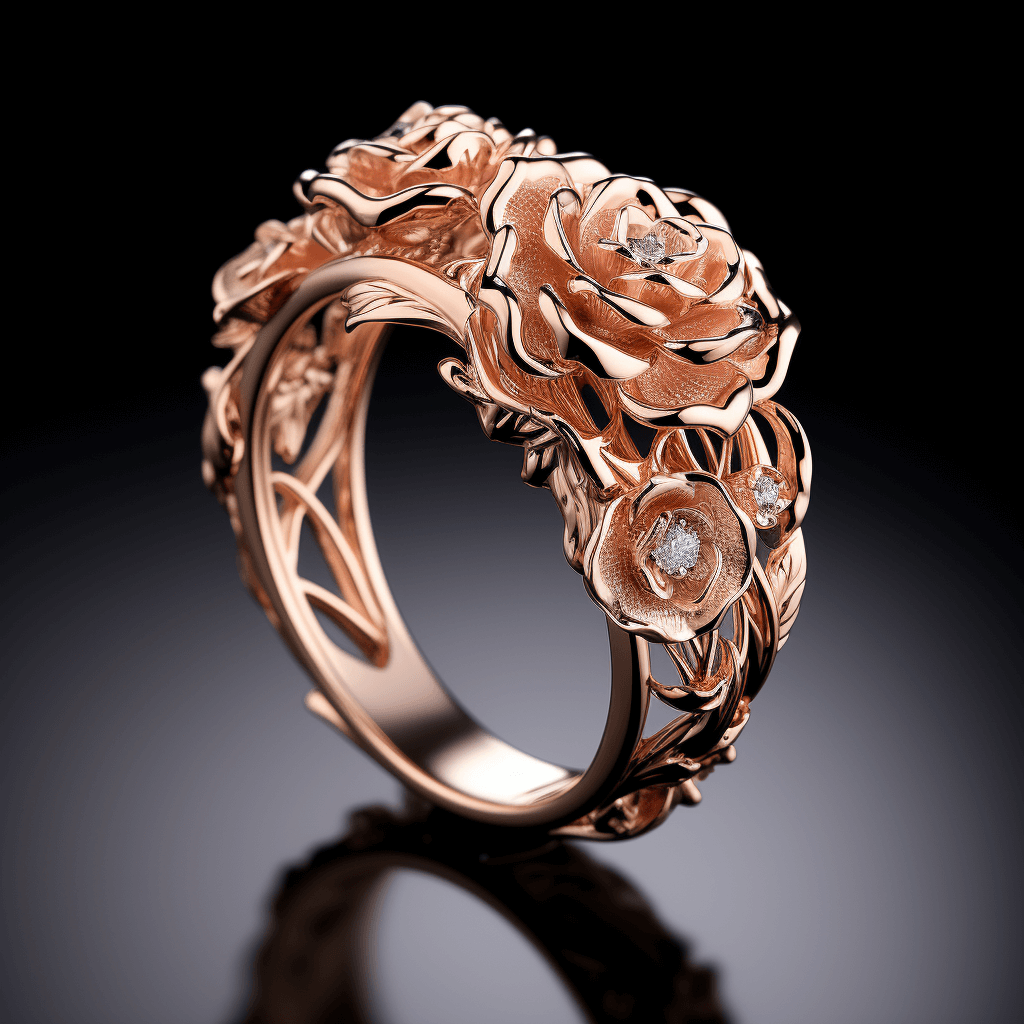 Over the past few years, rose gold has seen a significant surge in popularity. Celebrities and fashion-forward individuals have embraced the warm hue of rose gold in their jewelry pieces, from engagement rings and wedding bands to watches and bracelets. Its uniqueness and vintage appeal have made it a trendy choice for both men and women. From high-end brands to affordable fashion lines, rose gold is making its mark across the jewelry spectrum. Its popularity is such that it has even found its way into other aspects of design, including electronics, clothing, and interior decor.
Did you know? The use of rose gold initially peaked in Russia at the beginning of the 19th century, which is why it was referred to as "Russian gold" for some time.
Why Choose Rose Gold Jewelry?
Choosing rose gold for your jewelry has several advantages:
Distinctive Appearance: The warm, pinkish hue of rose gold offers a unique and distinct aesthetic compared to the more traditional yellow or white gold. This makes it a great choice for those seeking something a bit different.
Durability: Thanks to its copper content, rose gold is more durable than yellow or white gold. It's less likely to get scratched or dented, making it a great choice for everyday wear.
Versatility: The warm tone of rose gold blends well with many different skin tones and can also complement other jewelry pieces in yellow or white gold.
Timeless Appeal: Although it's a current trend, rose gold has a vintage appeal that never really goes out of style. It's a timeless choice that's likely to remain fashionable in the future.
Whether you're selecting an engagement ring, a stylish watch, or a pair of earrings, rose gold offers an appealing and stylish choice.
The Future of Rose Gold in Fashion and Design
Since its inception, rose gold has seen periods of popularity followed by times of quiet. However, its recent surge in fashion, design, and technology sectors suggests that it's here to stay. Designers continue to experiment with rose gold, blending its warmth and luxury with minimalist designs and bold, contemporary styles.
Moreover, rose gold has made a significant impact in the tech industry. High-end gadgets, like smartphones, watches, and laptops, now feature rose gold options, reinforcing its modern and stylish appeal.
While trends may come and go, the allure of rose gold seems timeless. Its unique blend of color and elegance gives it a versatility that many other metals lack. Whether in jewelry or in design, rose gold continues to captivate, lending a touch of warmth, luxury, and modernity.
Conclusion: The Lasting Appeal of Rose Gold
In conclusion, rose gold is a remarkable alloy that combines the timeless appeal of gold with the warm hue of copper. Its distinctive color palette has made it a sought-after choice for jewelry and design pieces alike. While it may have seen fluctuations in its popularity, its recent resurgence indicates a robust and lasting appeal.
Whether you're attracted to its historical significance, unique composition, or stunning aesthetic, rose gold offers a charming alternative to traditional gold and silver. And with proper care, your rose gold pieces can retain their beauty for generations to come, making them not just fashion statements but also cherished heirlooms.
Frequently Asked Questions
Is rose gold a real gold?

Yes, rose gold is real gold. It is an alloy made by combining pure gold with copper and sometimes silver, to achieve the rose color. The actual gold content depends on the karat of the rose gold, for example, 14k rose gold contains 58.3% gold.
Is rose gold 14k or 18k?

Rose gold can be either 14k or 18k, or any other karat depending on the amount of gold content. 14k rose gold contains 58.3% gold while 18k rose gold contains 75% gold. The rest is made up of copper and sometimes silver.
Is rose gold worth more than gold?

The value of rose gold depends on the amount of gold it contains. 24k gold will be worth more than 14k or 18k rose gold because it contains more gold. However, the value can also depend on factors like the design, brand, and craftsmanship of the jewelry piece.
Why is rose gold special?

Rose gold is special due to its warm, pinkish-red color which is achieved by alloying gold with copper. This gives it a unique appeal compared to traditional yellow gold and silver. It is also durable due to the strength of copper and is considered romantic and vintage-inspired.
Is rose gold romantic?

The pinkish-red hue of rose gold is often associated with romance and love, making it a popular choice for engagement rings and romantic jewelry gifts.
What does a gold rose necklace mean?

A gold rose necklace often symbolizes love, beauty, and passion, similar to what a real rose signifies. When made of rose gold, it can also represent a unique, romantic, and enduring love.
What does rose gold say about you?

Choosing rose gold can suggest that you appreciate the tradition and timeless elegance of gold but with a unique, modern twist. It can also indicate that you are romantic, sophisticated, and value uniqueness and individuality.
What is rose gold associated with?

Rose gold is often associated with style, elegance, warmth, and romance. Its unique color is seen as a blend of modernity and vintage charm, making it a versatile choice in jewelry and design.
Can guys like rose gold?

Absolutely! Rose gold is not limited to any gender. Its unique color and stylish appeal make it a great choice for everyone, including men. Many men's watches, rings, and other accessories are available in rose gold.
What is another name for rose gold?

Rose gold is sometimes referred to as pink gold or red gold, depending on the copper content and resulting color hue.